Strategievorming en advies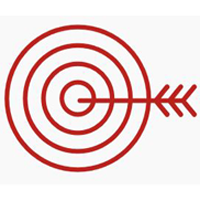 U wilt binnen uw bedrijfsstrategie een robuuste ICT-strategie neerzetten of ontwikkelen voor de komende jaren. Deze ICT-strategie moet als een paraplu samenhang brengen in reeds bestaande en toekomstige initiatieven en ontwikkelingen. Daarbij wilt u dat de ICT-strategie recht zal doen aan uw missie en visie en aansluit op de kernwaarde van uw organisatie.
De consultants van SKA Groep adviseren bij het ontwikkelingen of vernieuwen van uw ICT-strategie. Dit doen wij door onze kennis vanuit de sector en ontwikkelingen of trends in de tech-markt op de voet te volgen. Belangrijk speerpunt in het realiseren van ICT-strategie is het onder de loep nemen van de IT-governance, zodat we samen met u kunnen werken aan een verankering van de strategie in uw organisatie.
Daarnaast passen wij een methodische aanpak toe waarin de bedrijfsstrategie, trends op ICT-gebied, beleids- en besluitvorming op kwaliteitsmangement, bedrijfs- en informatiearchitectuur, informatiebeveiliging en privacy en een ICT-roadmap terugkomen in uw ICT-strategie.
De ondersteuning betreft onder meer de projectmanagement, begeleiding en organisatie van workshops en inbreng van expertise op het gebied van ICT-strategie.
Voor het realiseren van een vernieuwde ICT-strategie maken we graag en vrijblijvend een eerste, op maat gemaakt voorstel op basis van de actuele situatie van uw organisatie.
De klanten waar we de afgelopen jaren mooie projecten voor hebben mogen doen: